The practical information on this page can still evolve, so be sure to check it again shortly before the event.

Do you have a question? Don't hesitate to phone us on + 32 476 691 091.
Noise (dB) limit
Please be aware that the maximum noise that your car may produce while driving on track (= under "dynamic conditions"), is 102 dB.

There will be no static check before you go on track.

If you would be measured too loud on track, you will get a black flag with your driving number.

Immediately after this, you 'll have to pass a static sound check, which will be done conform the FIA regulations = max. 102 dB @ 2/3 of your max. revs.
Hotel adresses
Castle | Orangerie
If you've chosen the optionial possibility to sleep in the Castle or in the Orangerie, this is the address (same for the welcome reception and dinner on Friday evening):
Château de la Ragotterie

72530 YVRE L'EVEQUE

FRANCE
Kyriad Le Mans Sud (= standard hotel)
Hotel Kyriad Le Mans Sud - Mulsanne

Rue des Pins

72230 MULSANNE

FRANCE

+ 33 2 43 77 33 77

Checking-in is possible 24/24. If you 're late on Friday afternoon/evening, you can come straight to the castle for the welcome reception and dinner, and check-in into the Kyriad hotel, afterwards.
Arrival on Friday
When?
Friday August 5th, 18h00
Where?
In the following, very nice Castle Domain:
Château de la Ragotterie

72530 YVRE L'EVEQUE

FRANCE
Route planner
Friday evening Program @ the Castle Domain
Dress code
Casual chic - Click here for some inspiration ;-)
Program
17.30 - 18.30
18.30 - 19.00
19.00 - 19.30
Welcome Reception (Apero)
19.30 - 22.00
Dinner together

Between main course and dessert

Briefing about the program of the rest of the weekend

Presentation of the:

WheelTorque Staff (= our Team which is there @ your disposal to make a great weekend of it)

Team of Coaches (which will also be the whole weekend @ your disposal, to help you improve your driving skills)

After dessert

Reception of your envelope with

Number for on your car

Sticker with your Group name and color

Sticker for on your numberplate

Access badge

Filling in waiver of liability (you can already do this @ home and bring it with you also)
Saturday and Sunday Program
Access to the Paddock of the Circuit
Saturday and Sunday morning, from 8.00 AM

The pass code of the barrier = will be communicated later
Address Circuit
Rue des 24 heures

72019 LE MANS

FRANCE
Routeplanner
Use our route-planner on the Track-page.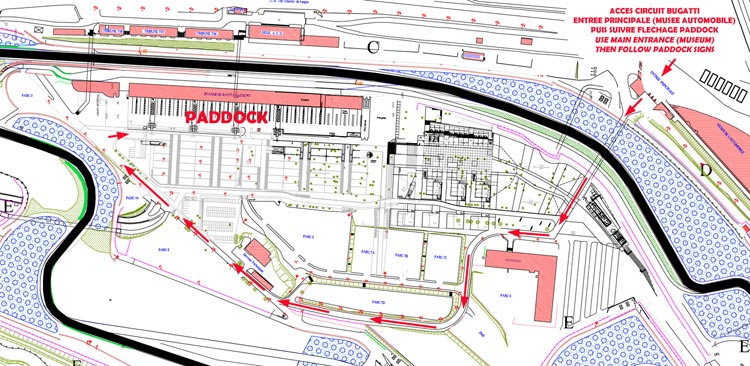 click on the plan for a bigger version
Time table
To bring
Car that is technically 100% fit and does not exceed 102 dB

Maintenance done: "Pre-Track-set-up" done
Fresh tires and brake pads

Helmet

(we don't have any on site, so please bring your own helmet); shirt or jacket with long sleeves; long trousers; comfortable shoes
ID-card
Filled in and signed waiver of liability
Good temper, discipline, good-fellowship, fit body and clear mind
Pitbox
If you didn't book a pitbox, but would still like one, they stay bookable on the spot @ our admin desk (box 28-29 in the paddock of the circuit of LE MANS)
Keys: Saturday from 8 AM
Price per day = 150 € + 50 € caution
There is internet access available in every box (included in the price; bring your own cable and/or router, because there is no WIFI)
Meals
All meals are inclusive:
Friday and Saturday evening: in the castle, after our welcome reception, starting @ 6 PM
Saturday and Sunday morning: breakfast in your hotel
Saturday and Sunday noon: at the track
Tire service
We have a service to check your tire pressure, and put it on the correct pressure if necessary.

There is no tire sales on site. Please arrive with fresh tires!
Technical service
We have a limited technical service on site. Changing brake pads on your GT-R is for example no problem at all.

We have no sales of brake pads or other technical parts.
Fuel
There is no fuel station in the paddock, but there is a TOTAL fuel station @ about 2 km from the track:
Garage de la Rotonde

456 Avenue Felix Geneslay

72100 LE MANS

Tel: + 33 2 43 84 07 56
Air picture from the Bugatti circuit from LE MANS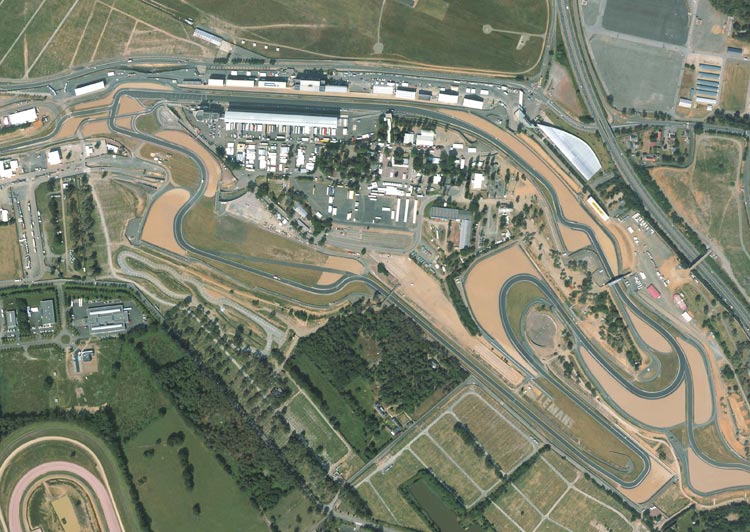 click on the picture for a bigger version
Plans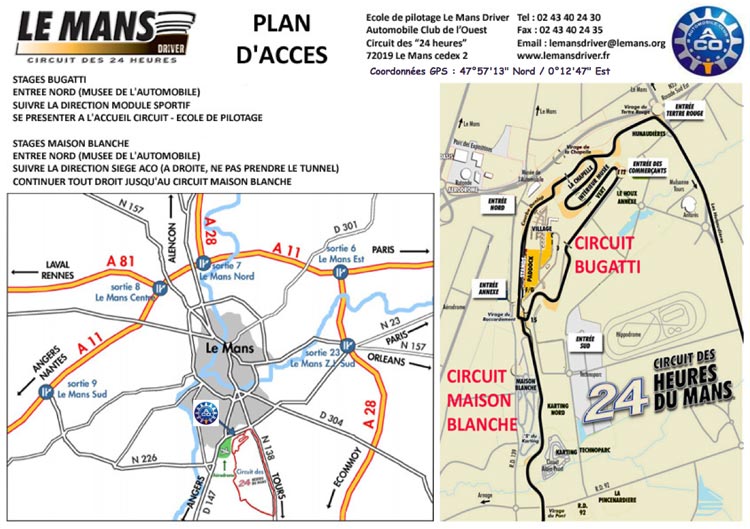 click on the plan for a bigger version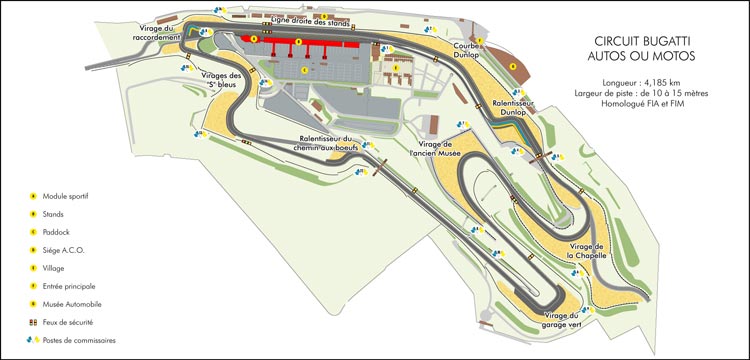 click on the plan for a bigger version
Insurance
TPL Insurance = included
With WHEELTORQUE, the Third Party Liability (TPL) insurance is included in your enrolment price.

Some circuits require a license. The only reason for this is that there is a TPL insurance included in it.

Because we provide for all participants - included in the price - such a TPL insurance, a license is not requested during our events and yet you are fully okay.
European Health Insurance Card
(we will not verify this, it 's only for your own comfort / safety)

VERY IMPORTANT: make sure to have your "European Health Insurance Card" (EHIC) with you. By showing this card, people know - in the domain of health (and injury) insurance - that you're completely covered in your own country and that every other country, that is a member of the European Union, has to give you all the needed care.If you haven't obtained your card from your health care insurance, than :

apply for a card immediately;

if you cannot receive it in time, ask them to e-mail to you a "Provisional replacement certificate for the European Health Insurance Card" (= 1 page, and this can be done immediately);

A list of "Dangerous sports" that are excluded from "urgent medical care abroad". Usually, "racing with car / motorcycle / outboard engines" is listed. But as we do not "race", our activity is not excluded from any treatment. Check if this is also the case with your insurance, and if it is not, just be sure to get an insurance yourself.

WHEELTORQUE has not only a very good insurance as an organiser, but insures also - on every event - all participants with a good TPL (= third partie liability) insurance.
Questions
If you have questions, do not hesitate to give us a call at + 32 476 691 091.